BGR Staff
21. Peru: Vocational Education Training for Poor Women
NEW PARTNER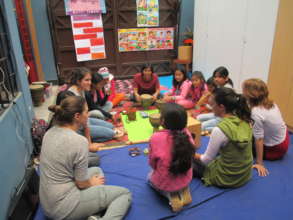 Founded in 1989, the Asociación Grupo de Trabajo Redes (AGTR) is devoted to providing vocational education to women and mothers employed in domestic work while teaching them about their human and labor rights. The Association runs an employment agency, La Casa de Panchita, to help women find jobs with adequate pay and respect for their skills.
This BGR partnership–along with the Nicaragua project our first in Latin America–will benefit women who have been employed in domestic work from childhood. The women find themselves struggling to provide proper nutrition, shelter, and other amenities to their families due to a paucity of employment options.These women are trapped in poverty, and as a result their daughters too will be trapped, thus perpetuating the cycle.
To break the poverty trap into which many girls are born, AGTR empowers women and mothers through vocational educational training. Through a grant from BGR, AGTR will provide training to 100 marginalized women who wish to undertake domestic work, while also giving access to employment through their employment agency. Utilizing an adequate salary, these women and their families will escape the misery of hunger, while their daughters escape the need to work and can remain in school. The women will be taught about their human and labor rights and will be given access to AGTR's in-house employment agency, which upholds the standards of the organization.
The Vocational Educational Training (VET) workshops are divided into three 3- hour sessions. The women will learn about their labor rights as domestic workers, become better prepared to negotiate a just salary, and learn about the social benefits such as healthcare available to all individuals who are employed full time. After students complete the training, they are equipped to begin their search for just and decent employment.
22. South Darfur, Sudan: Helping Farmers Affected by Conflict and Drought     NEW PROJECT
This project with long-time BGR partner Oxfam America will be launched in the Belail locality of South Darfur, in Sudan. On account of conflict and drought, the population of this region has experienced continued displacement, food shortages, poor living conditions, shrinking household income, and lack of employment opportunities. The current food shortage associated with the drought (El Nino) is preventing the local population from producing sufficient household crops to meet consumption and income needs. As a result of depleted assets, households spend most of their income on basic needs and poor families are unable to cope with the stresses and shocks. Women and girls suffer most of all from the impact of conflict and food shortages.
The project aims to address the problem of food insecurity by increasing crop production through improved access to agricultural inputs and training. The objectives of the project are; (1) to increase production of food crops by 20% per household; and (2) to increase farmers' knowledge of improved agricultural techniques.
Training on improved agricultural techniques will be conducted for 150 farmers. Each trained farmer will in turn train 3–4 additional farmers. The training will focus on improved agricultural techniques and practices as well as practical training in seed spacing, cultivation, mulching, intercropping, and weeding. It is expected that 510 households (3,000 individuals) will benefit from the project.
23. Vietnam: Meals for Hospital Patients
In Vietnam, the price of a hospital stay does not include food.  Already challenged by the hospital expenses, most families have difficulty providing food to their hospitalized relatives. The Vietnam Red Cross Society, founded in 1946 and a member of the International Committee of the Red Cross since 1957, aims to improve the lives of those affected by poverty. The Tam Binh and Cam Duong Red Cross offer humanitarian assistance in remote villages in the Mekong Delta region.
In partnership with the Tam Binh chapter of the Vietnam Red Cross, BGR has been providing thousands of free meals to patients at the Tam Binh hospital since 2009.  This year another grant from BGR will enable the organization, in collaboration with the local government, to feed poor patients in need. A team of volunteers manages a budget of $585 and serves 3500 vegetarian meals per week; the team switches each week. The BGR grant will fund approximately a third of the program for the year. Annually renewable project.
24. Vietnam: Scholarships for Poor Children
Since 2009, BGR has been sponsoring scholarships to students in elementary and middle schools in both the Cam Duong and the Tam Binh areas of Vietnam. The scholarships are given through the Red Cross of Vietnam to children from the poorest families who achieve good grades and display good conduct. Without this aid, these students would not have the means to continue studies at the primary and middle school levels. BGR's support of this project since 2009 has enabled thousands of children to attend school.
Funds from BGR provide enrollment fees, uniforms, books, and school supplies. The BGR grant will cover 50 primary school students, 120 middle school students, and 135 high school students for the 2016-2017 school year. Annually renewable project.
25. Vietnam: System of Rice Intensification
This annually renewable project is conducted in partnership with the International Cooperation Center of Thai Nguyen University. The project aims to  expand the System of Rice Intensification (SRI) on a large scale among village farmers in Phu Binh in Thai Nguyen province. The project supports farmers in applying SRI on large-scale fields to help them increase rice productivity and create products with the same quality, which increases the value of the products, thereby increasing the income of rice growers. The project activities also help people strengthen the connection in production and promote natural resources management to minimize the harmful effects on the environment.
Workshops will be organized to demonstrate SRI and allow farmers to practice techniques in the field; farmer groups will be trained in marketing thau dau sticky rice, a local delicacy. ICC will continue to organize the Thau Dau Rice Festival in Xuan Phuong to increase awareness and sales of the sticky rice. About 230 people are the beneficiaries of the project–farmers from nine villages of 3 communes in Phu Binh district and 3 local agriculture extension staff. Annually renewable project.
26. New York: Nutrition and Vegetarian Cooking for Homeless Youth
For the past 10 years, the Reciprocity Foundation has worked tirelessly to support homeless and foster-care youth aged 13–26 in their transformation from impoverished persons living in a shelter to educated, employed youngsters playing a leadership role in society. Having worked with nearly 2,000 homeless youth since its inception, Reciprocity Foundation has won numerous awards for its groundbreaking use of contemplative approaches to addressing youth poverty. This year Reciprocity will be putting a renewed focus on upstate retreats and a smaller cohort of homeless youth in New York who will receive more individualized attention, meals, and nutrition education.
In 2016–17 Reciprocity will start a home cooking program, helping youth to learn how to shop, stock their kitchen cupboards, and prepare simple, fresh vegetarian meals in their shelter or residence where they usually have limited cooking facilities.  This will require more time spent per youth but is expected to create more sustainable results for each dollar of funding.  They plan to offer this program to 20-25 youth in New York City.
With BGR support, Reciprocity will expand its Urban Food Project, taking youth upstate to spend time working on small organic farms where they will learn the basics of planting, harvesting, and cooking fresh organic meals. They anticipate bringing 30-40 New York City-based youth upstate for training and to offer them placements in culinary jobs. Once they establish new headquarters, they also plan to to offer their Healthy Meals program to homeless youth on a weekly basis. Annually renewable project.
27. Detroit: Community and Home Gardens in an Urban Desert
Keep Growing Detroit (registered 2014) operates in one of the most neglected cities in the U.S., where 20% of the residents are food insecure and the city's jobless rate is 13%. Residents have limited access to grocery stores due to an unreliable mass transit system; many buy their food at gas stations or convenience stores with bulletproof windows in monitored transactions.
The mission of Keep Growing Detroit is to promote food sovereign so that the majority of fruits and vegetables Detroiters consume are grown by residents within city limits. The long-term strategy is to foster healthy relationships with food by increasing knowledge of food and farming, nurturing leadership skills, cultivating community connections and capacity, changing the value of food, and developing food assets.
The goal of this year's project is to enable urban farmers to increase access to healthy fruits and vegetables and to facilitate educational and community events that promote healthy relationships of people to good nutritious food. The first objective is to support more than 1500 family, community, school and market gardens that will produce 180 tons of produce for predominately low-income families. The second objective is to facilitate 20 educational workshops and community events that will engage approximately 400 residents. Annually renewable project.