By Shae Davidson
A grant from Buddhist Global Relief to the What If Foundation supports the Lamanjay Food Program in the Ti Plas Kazo community of Haiti's capital, Port-au-Prince. The program serves up to 800 free meals each day at the Lamanjay community cafeteria and also provides lunches for 350–400 students and staff of the Father Jeri School in Port-au-Prince.
Five-year-old Riber Jean has been eating at the Lamanjay Food Program since he was born. He loves eating at the cafeteria—which is only a few blocks from his home—with his mom and younger sister, and looks forward to a chance to see his friends.
Lamanjay is the co-creation of the Berkeley, California­–based What If Foundation and the Na Rive community development program in Haiti. Over the last twenty years, the two groups have worked closely together to develop Haitian-led programs to provide food assistance, educational opportunities, and disaster relief to the residents of Port-au-Prince's Ti Plas Kazo community. For the children and families served by Na Rive's community cafeteria, the meals provided are often their only food of the day.
The United Nations World Food Programme describes Haiti as having one of the highest levels of food insecurity in the world. Half of the population was undernourished in 2018, and 22 percent of Haitian children are chronically malnourished. The situation facing children in Port-au-Prince has worsened since a political crisis began in 2018, which saw shortages of water, food, and fuel, as well as rising violence and increasing inflation. Over the past year, the Covid-19 pandemic and rising food prices have made Na Rive's Lamanjay food program more critical than ever.
A grant from Buddhist Global Relief has allowed the What If Foundation to continue supporting the Lamanjay Food Program. The support helps purchase food and cooking supplies, provide stipends to workers who prepare and serve meals, and pay for storage space for dry goods.
The community cafeteria serves up to 800 meals each day. The program also provides lunches for 350–400 students and staff members of the Father Jeri School, which was partly furnished and equipped with BGR assistance.
Na Rive continues to support the needs of community members who have been displaced from Ti Plas Kazo. In 2016 the government dismantled the tent camp created for survivors of the 2010 earthquake, forcing families to move far from Ti Plas Kazo. Na Rive opened a food pantry where displaced families can pick up rice and beans to cook at home. The pantry supplies up to 60 families each week, saving them from having to walk miles back to the neighborhood's community cafeteria.
In 2020, Lamanjay's three programs served approximately 5,000 meals per week. Over the course of the twenty years that Na Rive and the What If Foundation have worked together to serve the people of Port-au-Prince, they have provided over 5.5 million meals.
The food program also nurtures a stronger sense of community. Lamanjay provides a welcoming space for residents of Ti Plas Kazo. Rolande, a 7-year-old who relies on Lamanjay, said, "I feel safe and happy here." Many people who benefit from the project volunteer to help support it. The What If Foundation and Na Rive celebrate this spirit of communal effort, seeing it as an essential part of creating a feeling of togetherness and a valuable tool for helping residents and program workers build a more secure community. This sense of engagement and local ownership has led beneficiaries to share the story of Na Rive, putting more families and children in contact with the group.
This emphasis on safety and inclusion has helped Port-au-Prince residents like 4-year-old Jeanty Simon. Jeanty used to live in downtown Port-au-Prince with her grandmother, parents, and siblings, but the family moved to Ti Plas Kazo to escape the growing influence of gangs in their neighborhood. Jeanty's father had to abandon his job, and the Lamanjay program helps the family make ends meet while providing a safe, welcoming space as they resettle.
Margaret Trost, a business owner and young mother, founded the What If Foundation in 2000 with human rights activist Father Gérard Jean-Juste. Jean-Juste saw child nutrition as the first step on a path leading to education, opportunities for growth, and more vibrant communities. As they began organizing in Haiti, Jean-Juste and his supporters found inspiration in the Creole saying, "Piti piti na rive"—"Little by little we will arrive." The expression reflects the group's belief in the power of small acts of love to improve lives.
Community organizer Lavarice Gaudin became the leader of Na Rive following Father Jean-Juste's death from leukemia in 2009. He has skillfully guided the Lamanjay Food Program as well as the education and relief projects the What If Foundation funds in Haiti. Catherine Lelong, interim executive director of the What If Foundation since the spring of 2019, is of Haitian descent. A graduate of the London School of Business's MBA program, Lelong has used her skills in nonprofit marketing and strategy to work with Na Rive and donor groups like Buddhist Global Relief to help the Lamanjay Food Program continue to serve the people of Ti Plas Kazo.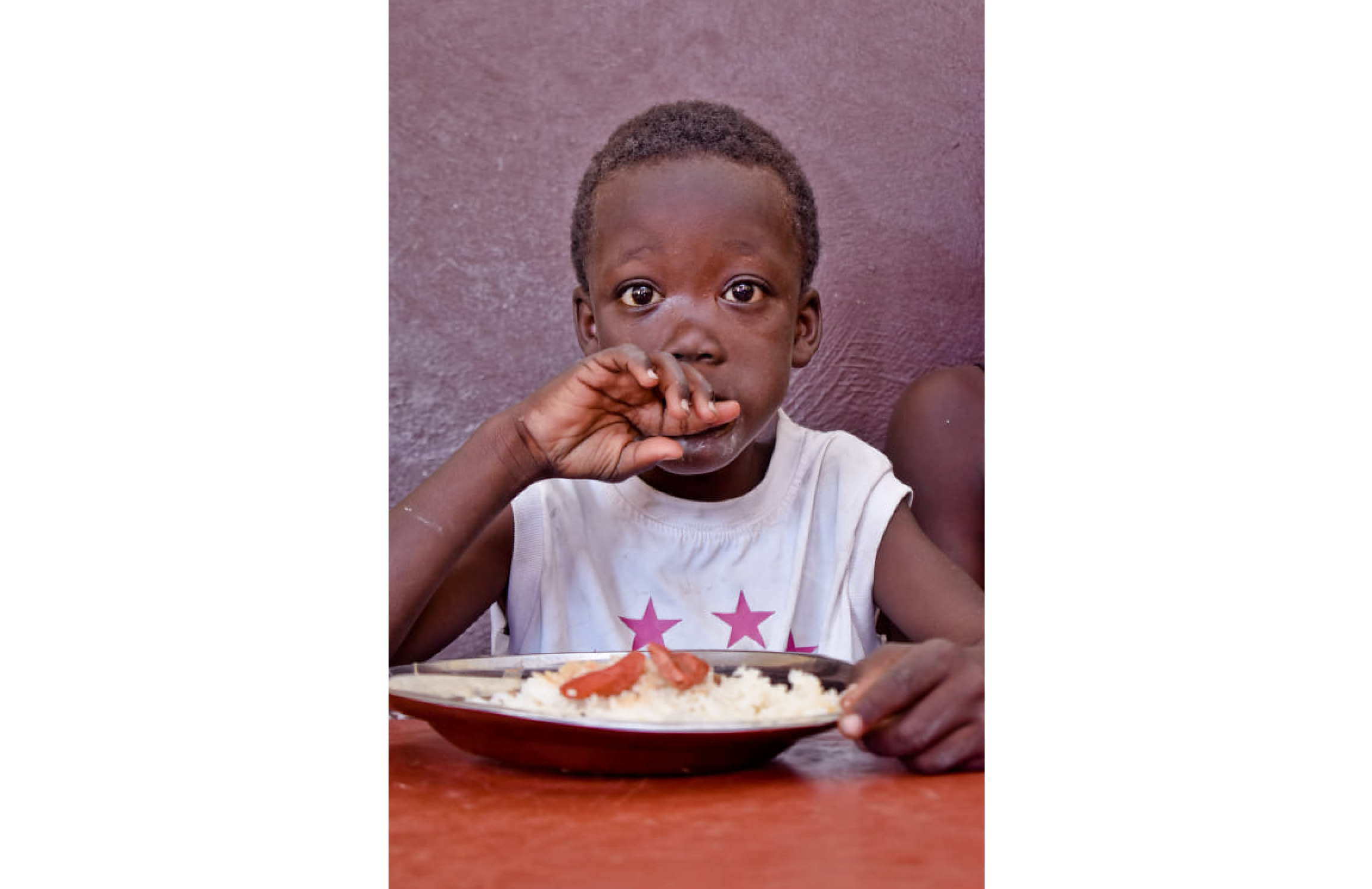 Support from Buddhist Global Relief allows the What If Foundation to give families and children vital resources, helping build a better future for residents of Ti Plas Kazo who rely on the Lamanjay Food Program. The What If Foundation projects that the grant from Buddhist Global Relief will allow Na Rive to reach 22,000 people, continuing a sustainable, community-based food program that helps families most in need. According to the foundation, the partnership "provides the children not only the food to survive but the knowledge that they are not alone and that there are donors in other places who care and stand in solidarity with them."
Shae Davidson holds a PhD degree in American history. His dissertation research explored the importance of inclusive community partnerships in building food systems. He has served as a museum director and taught history and public policy.