By Nina Lakhani,
The Guardian, April 14, 2021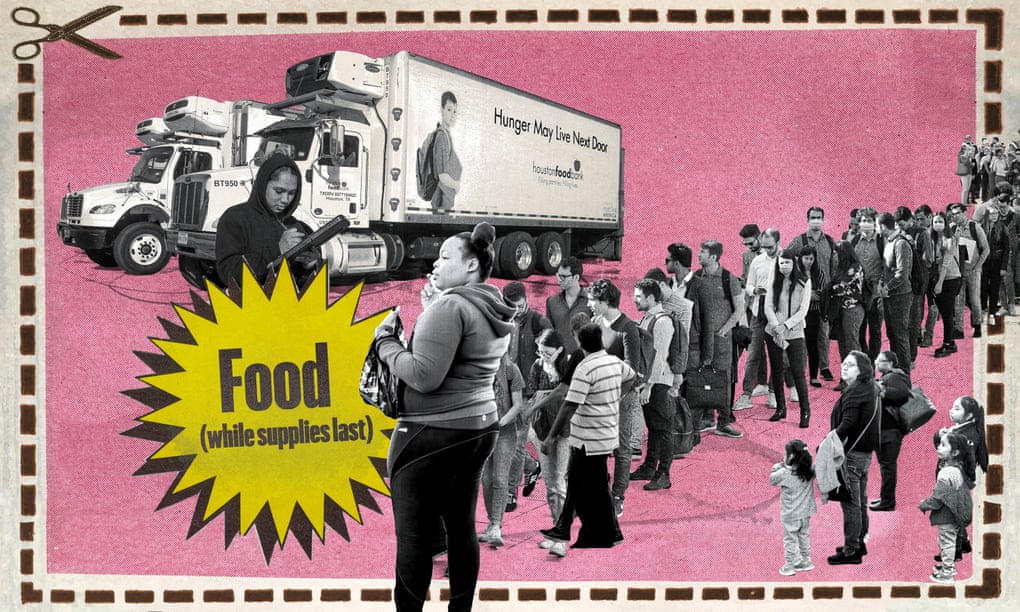 An investigation into food poverty by the Guardian and the Institute for Policy Research (IPR) at Northwestern University found gaping racial inequalities in access to adequate nutrition that threatens the long-term prospects of a generation of Black and brown children. Black families in the US have gone hungry at two to three times the rate of white families over the course of the pandemic.
The Guardian analysis found:
Hunger – defined as not having enough to eat sometimes or often during the previous week – has been reported between 19% and 29% of Black households with children over the course of the pandemic. This compares with 7% to 14% of white American families.
Latino families have experienced the second highest rates of hunger, ranging from 16% to 25% nationally.
Racial disparities varied across states: Black families in Texas reported hunger at four times the rate of white families in some weeks, as did Latinos in New York.
Overall, hunger declined sharply last month, but is falling far slower for people of color.
Since the start of the pandemic, hunger in America has soared amid mass layoffs, nationwide school closures, and political infighting over relief packages. Black and Latino families have gone hungry at much higher rates than white and Asian Americans – in large part due to longstanding racial economic inequalities that have never been addressed. As states reopen and Biden's aid package reaches those in need, the hunger rate is falling at a slower pace for Black and Latino Americans than white households.
Why have Black families experienced hunger at much higher rates than white families? The pandemic exposed and exacerbated existing economic inequalities. In 2019, the unemployment rate for Black Americans was double that for white Americans. Black workers on an hourly rate were 26% more likely than white workers to be on or below the $7.25 federal minimum wage.
Families with children have suffered most. Overall, the rate of hunger for families with children has been on average 61% higher than for adult-only households. This is particularly troubling as inadequate nutrition can damage children's emotional, physical, and mental well-being, and the consequences can last a lifetime.
Neither charity nor government assistance will dismantle structural inequalities that keep millions of Americans trapped in poverty. In 2019, about 35 million Americans relied on food charity, and almost 80% of households receiving food stamps had at least one worker, while about one-third included two or more workers – a clear indication that many families do not make a living wage.
According to Paul Taylor, executive director of FoodShare, a Toronto based food justice organization: "Food insecurity is absolutely a political choice, 100%. This could be in our history books if governments decided to tackle poverty and food insecurity, but this can't be done unless we disrupt capitalism."
This is a condensed version of an article published in The Guardian of April 14, 2021, titled "America's year of hunger: how children and people of color suffered most." Courtesy of Guardian News & Media Ltd under their Open License agreement. The second part of Nina Lakhani's special report will be published in The Guardian later this month and will examine the deep roots of America's food insecurity problem.