BGR Staff
21. Peru: Vocational Education Training for Poor Women
NEW PARTNER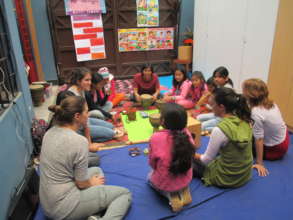 Founded in 1989, the Asociación Grupo de Trabajo Redes (AGTR) is devoted to providing vocational education to women and mothers employed in domestic work while teaching them about their human and labor rights. The Association runs an employment agency, La Casa de Panchita, to help women find jobs with adequate pay and respect for their skills.
This BGR partnership–along with the Nicaragua project our first in Latin America–will benefit women who have been employed in domestic work from childhood. The women find themselves struggling to provide proper nutrition, shelter, and other amenities to their families due to a paucity of employment options.These women are trapped in poverty, and as a result their daughters too will be trapped, thus perpetuating the cycle.
To break the poverty trap into which many girls are born, AGTR empowers women and mothers through vocational educational training. Through a grant from BGR, AGTR will provide training to 100 marginalized women who wish to undertake domestic work, while also giving access to employment through their employment agency. Utilizing an adequate salary, these women and their families will escape the misery of hunger, while their daughters escape the need to work and can remain in school. The women will be taught about their human and labor rights and will be given access to AGTR's in-house employment agency, which upholds the standards of the organization.
The Vocational Educational Training (VET) workshops are divided into three 3- hour sessions. The women will learn about their labor rights as domestic workers, become better prepared to negotiate a just salary, and learn about the social benefits such as healthcare available to all individuals who are employed full time. After students complete the training, they are equipped to begin their search for just and decent employment. Continue reading →